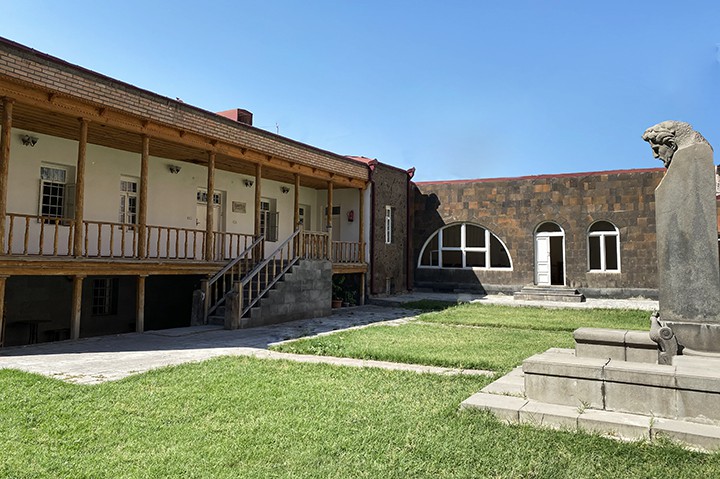 On the eastern side of Ejmiatsin square after Komitas, behind the red tufa wall one will notice a house where for many years Hovhannes Hovhannisyan lived and created.
On February 9, 1948 in eternal memory of the poet, due to the efforts of Yeva Hovhannisyan, the poet's daughter and the first Director of the museum, the Executive Committee of Ejmiatsin City Soviet of Working People's Deputies decided to turn that house into the House-Museum of Hovhannes Hovhannisyan.
The paternal house of the poet has been preserved almost in its original shape. Only the external part is covered with a layer of an Armenia tufa. The house is a 1.5 floor modest building covering an area of 215 square meters. It includes four rooms, а corridor and а kitchen. There is also a spacious balcony and cellars where the blessings of the Ararat valley were kept.
The visitor enters the verdurous yard through the traditional gate. The small stone-build stairs lead to the balcony. On the right wall of the corridor, on a marble board, the following lines by the poet are written:
Shall live the one which is eternal,
Holy beauty and holy mind,
The noble mind will remain free and alive,
And the selfless love for the poor brother…
The museum was partially renovated in 1978. And the entire renovation of the museum was carried out in 2011 on the initiative of Mayor of Ejmiatsin Karen Grigoryan.
The museum is free for visitors.
More than 700 items are preserved and exhibited in the halls (work room, bedroom, dining-room, living-room) and repositories of the museum. These exhibits represent Hovh. Hovhannisyan's life, the years of his study, his literary, social and pedagogical activity, the stories of creation of his works, etc.
The museum also exhibits the editions of his works, photos, personal belongings, autographs, studies on his works, paintings etc.
The bust of the poet (sculptor: Gh. Chubaryan) is situated in the yard of the house.