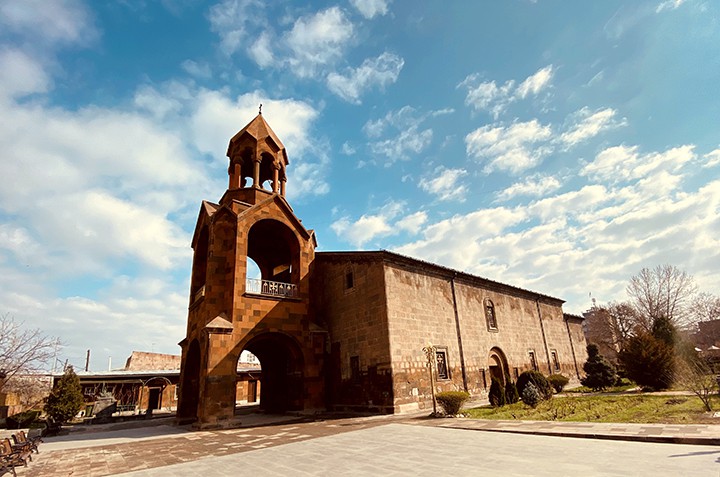 Holy Mother of God Church is situated in the central part of the city. It was built in 1767 during the reign of Catholicos of All Armenians Simeon Yerevantsi of blessed memory. There is a stone inscription about the exact year of the construction of the church, which, according to the testimony, was written by Catholicos Simeon during the renovation of the High Altar and placed it in one of the inner walls of the church. The church was originally made of wood, which certainly could not withstand the ravages of time. Therefore, according to the above-mentioned testimony, a century after the wooden church was built, it was replaced by a stone structure.
The church has a basilica form with a long roof, which is accepted in the Armenian architecture. It had no belfry. During the church services and the Holy Liturgy the bells rang from a specially made dome-shaped iron equipment, from which two bells hung. It was placed on the roof and was removed during the renovation of the church.
Several Armenian cross-stones carved during the same period have been placed on the external side of the church in the walls.
Holy Mother of God Church had many pastors who served the faithful people. The most memorable of them is Fr. Kerovbe Senior Priest Shahbazyan, immigrated to the motherland from Persia in 1947, who overcoming big difficulties, even suffering personal losses was able to raise a worthy generation of clergyman. Many of those young people later became honest and dedicated clergy of the Holy Armenian Apostolic Church.
Holy Mother of God Church prospered during the reign of His Holiness Vazgen I Catholicos of All Armenians. The Armenian Patriarch, who paid huge attention to the renovation of the historical monasteries and churches of Armenia, turned his attention also to the Holy Mother of God Church located in Ejmiatsin. The main renovation of the church began in 1986, when by the order of the Armenian Patriarch, Fr. Hovsep Senior Priest Hakobyan was appointed as a person responsible for the church and later as the Abbot of the church, who was one of the students of Fr. Kerovbe Senior Priest of blessed memory.
Years passed and the church was renovated both from outside and inside. A new High Altar was built from felsite instead of the old brick Altar. The 12 vaults were faced, which were not in a good condition. The tile floor was changed, three beautiful crystal chandeliers and new icons were hung. The baptismal font was renovated, in the center of which an ornamented marble cross was placed. The two Altars were faced with tufa. The three wooden doors of the church were changed and decorated with ornaments. New beautiful ornamented candlesticks and other items were made.