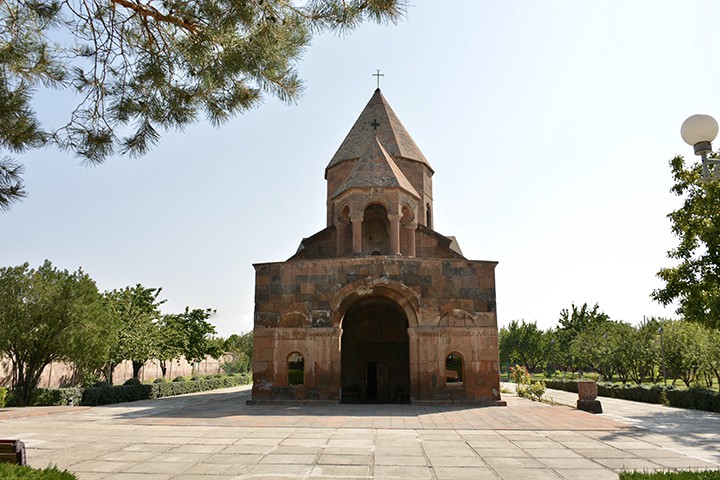 St. Shoghakat Church is a small but beautiful monument of architecture. It is the newest construction of the architectural complex of Ejmiatsin. It was built in 1694 by Ishkhan Aghamal Shorotetsi in the western side of Hripsime Church.
According to the legend the church was established on the site where "a ray of light dropped" on the martyred virgins of Hripsime.
The gavit (narthex) is adjacent from the west crowned with the belfry rotunda with eight columns. It has entrances from the eastern and western sides.
There are ruins of a small chapel close to the church, which was built in 5-6 centuries.
The shapes and proportions of the plan are typical of this type of structures of early medieval period, from which we can assume that St. Shoghakat Church was constructed on the basis of VI-VII centuries building. The dome with an octagonal drum is not in the center of the construction but in the center of the hall with two couples of pilasters, like ancient churches of this type. The gavit(narthex)-hall is attached from the west.
During the excavations in the south-west of St. Shoghakat Church the ruins of a single-nave church (IV century) were unearthed built of smoothly hewn tufa, ascending into the socle with many stairs. Adjacent to the southern wall there is a small semicircular apse, where probably the portico ended. There are two entrances - from east and west.
St. Shoghakat Church was listed as a UNESCO World Heritage Site in 2000.