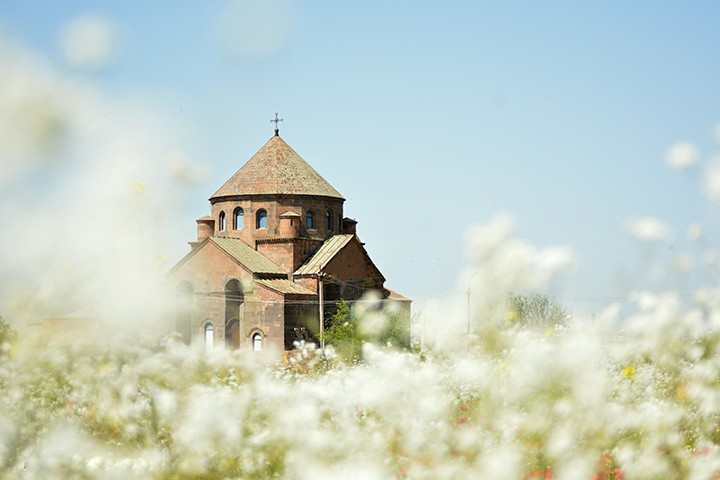 In the eastern part of the city of Ejmiatsin, on the left side of the highway leading to Yerevan, one of the masterpieces of the Armenian architecture - St. Hripsime Church stands out in its majestic appearance.
St. Hripsime Church is one of the most refined examples of the early medieval Armenian spiritual structures and is one of the most complex compositions of the Armenian architecture. It was founded in 618 by Catholicos Komitas I Aghtsetsi in the place of the IV century mausoleum of martyred Saint Hripsime built. In 1776 the church was surrounded by a brick wall, and in 1880 the belfry was constructed in the gavit (narthex) of the church. Later, in 1894 the eastern and southern walls as well as a number of subsidiary structures were built of smoothly hewn stone. St. Hripsime Church is considered to be a unique structure of Armenian style. From the outside, the Church represents a square central-dome structure, while from the inside it is cruciform. Various architectural solutions were implemented to make the church earthquake resistant. One of such solutions were the triangular niches on the outer walls, the light cover of the dome with ribs and low center of gravity, while the four square towers and the four little round turrets at the corners of the dome, were designed to resist the lateral movement waves of an earthquake. The interior decoration of St. Hripsime Church is extraordinary and complex. Besides the big apses in the four corners, there are also four narrow cylindrical niches leading to the sacristies located in the four corners of the church. This innovative composition created by the Armenian architects was later used in the Armenian architecture of VII century and also had an influence on the structure of the churches of later period, such as the masterpiece on Aghtamar Island in Lake Van - the Cathedral of the Holy Cross.
According to Agathangelos, the Roman pagan Emperor Diocletian wanted to marry one of the beautiful Christian nuns - Hripsime. The nun Hripsime, the abbess Gayane and dozens of other nuns fled from the persecution of Emperor Diocletian and left for Armenia. Finding out that the nuns left for Armenian, Emperor Diocletian sent a letter to the Armenian King Trdat III, asking him to find and kill them, and send Hripsime back to him. Mesmerized by Hripsime's beauty, the King decided to marry her, but after her refusal he got angry and ordered to isolate and martyr the nuns in various places. This church was built in the place where Hripsime was martyred, and today her mausoleum is situated here.
St. Hripsime Church was listed as a UNESCO World Heritage Site in 2000.