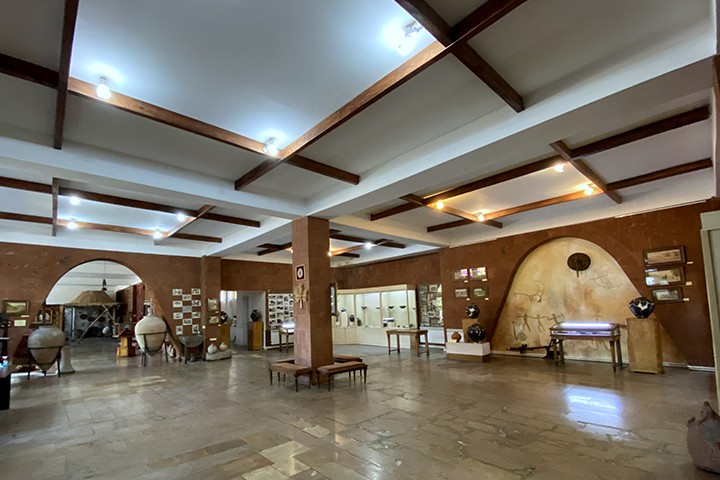 The Historical and Ethnographic Museum of Ejmiatsin was founded in 1964. Tens of thousands of samples and huge ethnographic material are exhibited and preserved in its halls and repositories. Initially the restocking of the exhibits of the museum was implemented due to the schoolchildren, students and collective works.
Archaeological excavations in the region of Ejmiatsin have started yet since 1962. They were headed by honored archaeologist Rafik Torosyan, the Candidate of Historical Sciences, researcher of the Institute of Archeology and Ethnography of NAS RA. The archaeological excavations headed by R. Torosyan lasted till 1985. Later starting since 90s up to date, the discovered unique artifacts have found their own place in the halls and repositories of the Historical and Ethnographic Museum. Today the museum preserves nearly 15 thousand exhibits, about 250 of which are exhibited in the ethnographical hall.
The exhibition of the museum starts from the archaeological hall, where everyday life of the inhabitants of the Ararat valley is presented. The chronology starts from the Eneolithic (Copper-Stone Age), early Bronze Age till the Middle Ages. These exhibits are of great scientific value. Many of them are of unique nature. You will not find such kind of exhibits in Europe or Western Asia. For many scientists the archeological materials of the museum are subjects of constant studies. The ethnographic collection includes exhibits brought from a number of regions of Armenia, Artsakh and Western Armenia. Among these exhibits are rugs, carpets, household items, kitchen utensils, materials related to local crafts, antique books, photos, furniture, numismatic collection, etc. There is also a model of traditional tonratun (a place with underground tonir for cooking and baking) presented in the ethnographic hall, and a model of a shelter of the Stone Age people in the archeological hall.
There is also a unique historical exhibit represented in the museum. It is a typographical machine dating back to 1809. This typographical machine was a gift (1894) to Catholicos Mkrtich I from Victoria Queen of Great Britain. Later the typographical machine was moved from Mother See of Holy Ejmiatsin to the city printing-house, then at the end of 1970s to the Historical and Ethnographic Museum of Ejmiatsin, where this unique historical exhibit is preserved and exhibited till now. One of the interesting parts of the museum exhibition is vordan karmir (a red dye made from Armenian cochineal) and the samples of all its shades.
Referring to the nature of the Historical and Ethnographic Museum, its ethnographic and archeological collections and their powerful role, it should be noted that this museum is a national strength and value for the real Armenian mentality.
The Historical and Ethnographic Museum of Ejmiatsin always comes up with original initiatives. New and thematic exhibitions are regularly held here. The museum always participates in UNESCO European Heritage and "Night of Museums" initiatives.