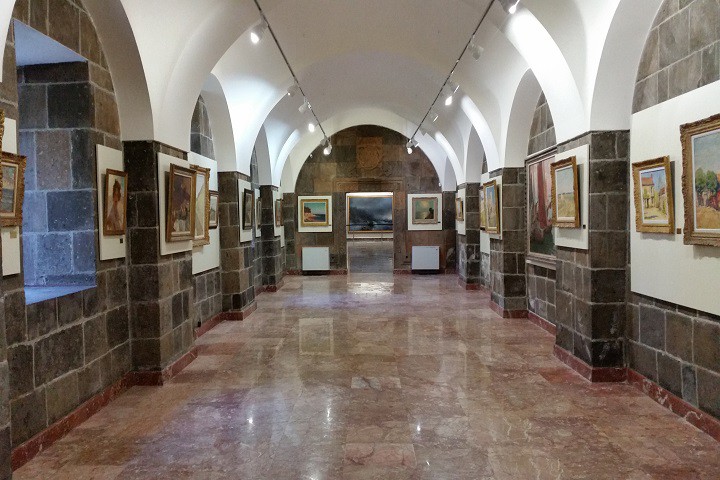 Located south of the Mother Cathedral is a long building extending out as a wall. It was built in the XVIII century under the direction of Catholicos Ghazar of Djahook (1737- 1751) and was named after him - being referred to as the Ghazar wall (Ghazarapat). The primary purpose of the building was to house and feed the residents of the Mother See on the first floor, and serve as housing for seminarians and visiting pilgrims to the Mother See on the second floor.
In 1974 Ghazarapat was fully reconstructed. The western part of the first floor housed the refectory and kitchen where the residents and guests of the Mother See receive their meals. It was also used on occasions for special celebrations.
In 2013, the first floor was reconstructed again, and the refectory and kitchen were removed. The renovated building was opened as the Ruben Sevak Museum. His Holiness Karekin II, Catholicos of All Armenians, blessed and consecrated the new museum on 10 September, 2013. The museum houses the collection of artwork donated to the Armenian Church by French philanthropist John Chilingarian. The collection includes over 200 paintings of well known French Armenian artists, but most notably features two prominent paintings by renowned Armenian artist Ivan (Hovhannes) Aivazovsky. The collection includes personal effects, important documents, works of art, and intellectual property of prominent intellectual Ruben Sevak, 1885-1915, who was a poet, prose-writer and doctor. He was arrested at the onset of the Armenian Genocide on April 24, 1915 and killed on August 26, 1915 in Istanbul, Turkey.
Source: https://www.armenianchurch.org