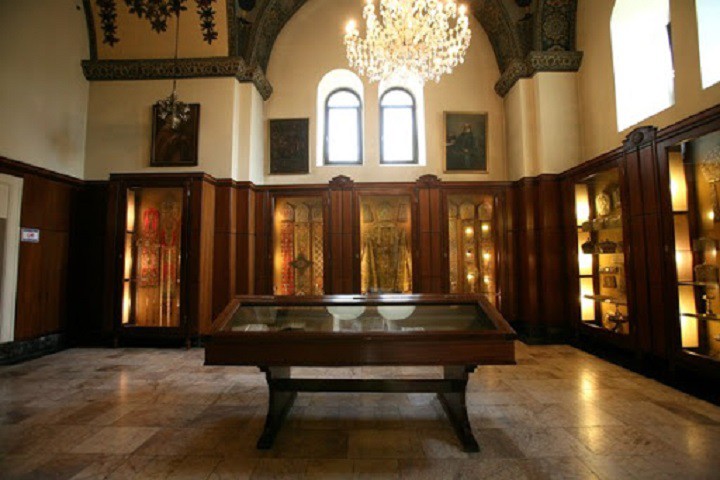 The Museum of the Mother Cathedral is situated in the southeast section of the Cathedral. Through the sponsorship of the Armenian Diocese of Russia, Catholicos of All Armenians, His Holiness Kevork IV, built the museum in 1869. The museum wraps around the main altar on the south and east sides. Prior to the construction of the museum, traditional sacred relics were kept in the eastern chambers and vestibules of the Mother Cathedral, behind the bema. Their location made displaying these items most difficult. The construction of the museum allowed for the addition of display cases to be added, along with more room for the larger objects.
Unique holy relics and religious art are now housed in the museum. The museum contains many reliquaries. It was common practice for artisans and patrons to create reliquaries to properly display relics, sometimes long after the relic had been given to the Church and most often made separately from the relic itself. Among the many treasures are: the Holy Lance (Geghart) which pierced the side of Christ, housed in a silver reliquary; the relics of Noah's Ark in a reliquary that was created in 1698; "Khotekerats Sourp Nishan" reliquary with the relic of Jesus Christ's wooden cross (914-929); the cross of King Ashot Yerkat with it chest, one of the oldest processional crosses in existence; the cross of Hovhannes-Smbat King of Ani, made of mountainous crystal; relics of the Apostles, Sts. Thaddeus, Bartholomew and Andrew and St. George; the wooden icon of the Church of Havouts Tar (10th century); the miter (liturgical crown) of Archimandrite (Vardapet) Komitas; the paintings of Steppannos Lehatsi, Soureniants and other valuable pieces of art.
The pieces on display are also a reflection of the Armenia Diaspora as many of the art pieces reflect the region from which they came. Donations and gifts to the Mother See have come from individuals, families and different Dioceses and Armenian Communities around the world.
In addition to the pieces on display, visitors are able to see a most unique exhibit which is located underneath the Cathedral's Holy Main Altar. In 1958, during archaeological excavations which were conducted due to renovation work of the Holy Altar, remnants of the original Holy Altar, founded by St. Gregory the Illuminator, dating back to 301-303 AD, were discovered. Architect-artist Alexander Sahinian, while making excavations, also discovered the remnants of a pagan fire altar, atop of which the original Holy Altar was constructed.
In addition to these altars, another altar, built in the fifth century by Vahan Mamikonian, with its columned bases, bema and the foundation stone of the Altar, was also discovered.
This exhibit also displays the multiple layers of the Cathedral itself, allowing visitors to see the changes in color and texture of the Cathedral as it changed through time.
Source։ https://www.armenianchurch.org