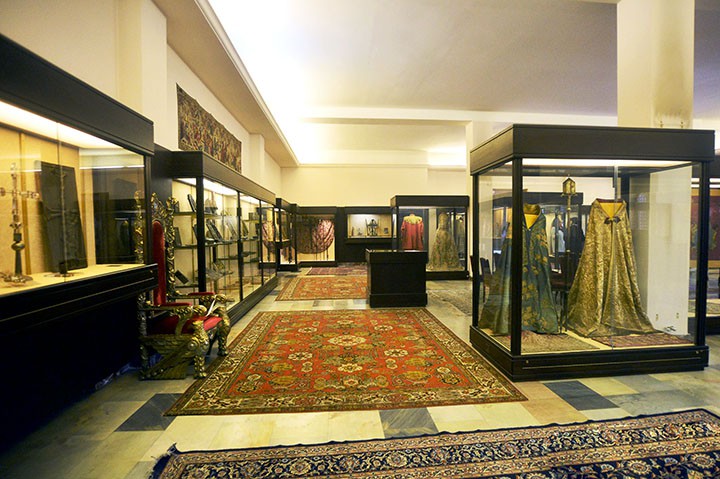 The Alex and Marie Manoogian Treasury House Museum opened on 11 October 1982. The Treasury House Museum is a fine example of modern Armenian Architecture which encompasses the original and distinctive features of classical Armenian architecture. The architect is Mr. Baghdasar Arzoumanian. The Treasury House was named after the great American/Armenian benefactors Mr. and Mrs. Alex and Marie Manougian. This beautiful and valuable building was erected due to their donations.
The two story structure houses not only the museum pieces of the Armenian Church, but also serves as the temporary building for the Karekin I Library.
The exhibits of the Treasury House have been brought to the Mother See of Holy Etchmiadzin from different Armenian communities throughout time, comprising a vast geographical area. These exhibits come to testify about the skill and high artistic taste of the Armenian craftsmen of different centuries, their unique perception of beauty.
Numerous valuable artistic items are exhibited in the halls of the Treasury House, including samples of church art as well as applied art, cross banners, Altar curtains, Right Hands, pyxes, vestments, lanterns, different crosses, staffs, ancient Armenian carpets, pottery and wood-engravings.
Among the precious exhibits of the Treasury House of great value are the handwritten records, the manuscripts with unique miniature illustrations and silver, delicately ornamented covers.
The collection of pictures depicting the Holy Mother of God created in different regions of historic Armenia at different time periods is also kept here.
Lastly a room has been dedicated to gifts given to the Armenian Church from guests, visitors and Armenian faithful from around the world.
Source: https://www.armenianchurch.org