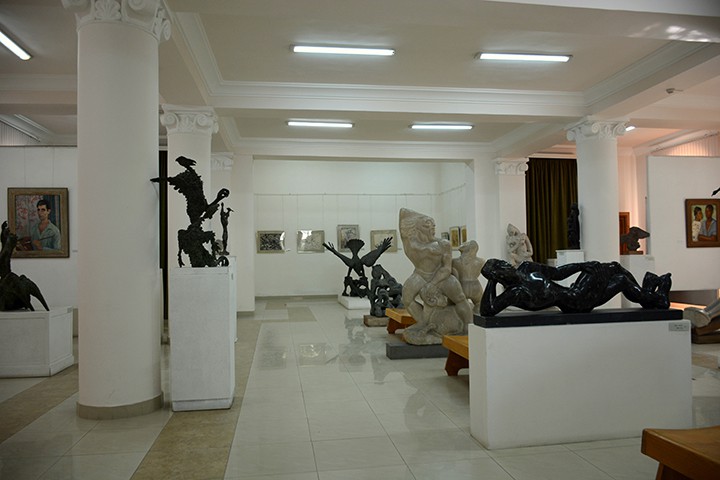 The Art Gallery of Ejmiatsin was founded in 1970 and for years it functioned in the building of Gevorkyan Seminary.
In 1994 the building was given back to the Mother See and the branch was moved to the building of the cinema of Ejmiatsin.
The museum exhibits the works of American-Armenian sculptor Khoren Ter-Harutyan (sculptures, drawings and paintings).
Khoren Ter-Harutyan came to Armania for the first time in 1970 at the invitation of Armenian Association for Relationship and Cultural Cooperation with Foreign Countries.
In 1971 his personal exhibition at the House of Painters of Yerevan made him famous also in Armenia. And in 1983 the sculptor donated more than 200 works to his motherland.
In 1994 the permanent exhibition of the master's works was opened in the branch of Ejmiatsin. Here are presented Khoren Ter-Harutyan's sculptures, paintings that he painted when living in Jamaica and graphics created in different countries. These works reflect his artistic language and give us an understanding about the various genres he used.
His art was worthily appreciated by his contemporaries, was met with great interest in American and other presses.
Since 1929 he had many personal (USA, Jamaica, England, Scotland, Italy, France) and joint exhibitions with world known artists (Maillol, Despiau, Picasso, Gabo, Lipchitz). He was awarded with many prizes.
The works of Ter-Harutyan are presented in various museums and private collections of the world.
His monumental works "Junior Mher", "Inventor" are placed at Fairmount Park of Philadelphia, the work "Beaver" in the hall of the College after Bernard Baruch in New York and his "Revived Armenia" monument is in the Circular park of Yerevan.